Leon Dwinga III, owner of Runaway Records Productions, LLC, has built a successful event production business on talent, technical skill and a reputation for professionalism when dealing with his many high-end and boutique clients. Recently, when he was asked to provide sound for one of those clients in Pittsburgh, Pennsylvania, he considered which equipment he'd bring to cover their popular men's event to be held at the David L. Lawrence Convention Center. Armed with just a Muse 210 line array and additional FBT support speakers, he surprised even his own engineers by providing outstanding sound – supporting a full band and multiple presenters who addressed a crowd of 3,000 people in a 24,000 square-foot space.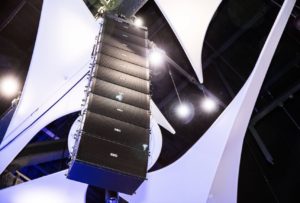 "This particular event – the Catholic Men's Fellowship – is something we do annually, but this was the first time I'd brought FBT to the job. When one of my audio engineers, who happens to be the A1 for the Pittsburgh Penquins, saw that I was going to use two stacks of four boxes in a room that was 200 feet by 120 feet he was doubtful," said Dwinga, "but only until he raised the fader 30 percent of the way, and then he was really impressed. I mean, that's a big room and we needed to support a full worship band with drums, electric and acoustic guitars, keyboards, sax and flute – We're talking about the full range of tones that you could possibly get in a live scenario. We had two stacks of four FBT Muse 210LAs, two of their dual sublines and two more each of their outfills and two small center fills. Not only did we cover the room accurately – the sound was just mind-blowing. As good as the speakers sound with music, they're at home with the spoken word. They have one of the smoothest midrange responses I've ever heard."
When asked what it was about the brand and, particularly, the Muse 210LA that appealed to him, Dwinga cited durability, a precise rigging readout system that allows him to get the exact angle he needs for a given event, and exceptional sound throw. He also touted its sound quality, calling it "one of the flattest boxes [he's] ever heard in a line array." The equipment's sleek, attractive and functional design was also named as an outstanding feature.
Customer service, though, topped the list when the business owner was asked about John Krupa, President of Italian Speaker Imports, the exclusive U.S. distributor of FBT.
"To John, it's all about having a relationship," said Dwinga. He's steered me toward the right products, has spent a significant amount of time getting to know me and my business, and even offers to map any of my job venues in ease plots to make sure I'm going to get optimal sound. I know what my pin angles should be, where to put my stacks… there's just no one else who does that. It's unheard of. No one can hold a candle in the wind to what John is willing to do to help his distributors and clients. His integrity and commitment to his customers is just unmatched."
Dwinga, who says he tries to model his own business and personal life with that same integrity, said that his first exposure to FBT surprised him just as much as his engineer was at their recent large-scale event.
"Fifteen years ago, when I got my start in the business, I had a client that had these beat up, rusted FBT loudspeakers that they really didn't take very good care of," he said. "I mean, they would even use them outside in the rain. I could never believe how amazing those little speakers sounded, especially in that condition. I'd never treat my speakers the way they did, but I have to tell you, the fact that those speakers were so durable, and the fact that their design means that when you do take care of them, they look as gorgeous as they sound – well, that's just a few of many reasons I feel that there aren't many other brands out there that come close to the FBT."
(photo credit: Leon Dwinga, III / Runaway Records Productions, LLC)