Italian Speaker Imports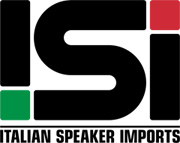 Italian Speaker Imports began in 2014 for the sole purpose of providing a first-class USA partner for select international pro audio brands. With a corporate philosophy unlike any others in their industry, Italian Speaker Imports quickly found success, becoming the "fastest growing loudspeaker company in the USA" in 2015.
"People who support us through their words and efforts, and through purchasing our products, are investors in our brand and we view and treat them as 'shareholders'," believes Italian Speaker Imports president John Krupa.
"We don't use the term 'dealer' or 'customer' here, for those words imply someone who merely resells your products. We are interested in only 'partners' here for those people commit to helping us grow our brand. We are passionate about our partners' success and it is great to often see that reciprocated. We are extremely fortunate to have some great partners today."
Italian Speaker Imports employs helpful, friendly, and knowledgeable staff, for it is their goal to make all dialog a pleasant and memorable experience. Italian Speaker Imports' staff also has a combined 150+ years of pro audio industry experience, something unheard of for such a small and young company.
Italian Speaker Imports was formed as the USA branch of FBT in 2014, and that special relationship will always have paramount importance. In 2016, Italian Speaker Imports expanded by partnering with Bespeco and JTS Microphones.
FBT, Bespeco, JTS and StudioMaster are great companies in their own right, but within Italian Speaker Imports they compliment one another and help create one unified brand.