For immediate release
For more information contact: LisaMarie DeSanto
674. 2927 or

[email protected]
Sought After Sound Designer Turns to FBT to Meet High Standards
July 16, 2017 –  Portland, Oregon – Nick Moon is as passionate about sound quality as he is good music. As the owner of three companies – a studio (Tone Proper Mastering), an AV company (Tone Proper AV) and an acoustics business (Tone Proper Acoustics) – he's spent countless hours working with professional musicians and sound technicians. His days are spent listening to the tiniest details of every note, on projects ranging from recording to live performances. And when it comes to his clients, he's not willing to give them anything less than the very best a sound system can offer. Not all of his clients have big names or big budgets, though, so Moon used to struggle with the ability to recommend speakers in a lower price range that met his high standards on sound. Thanks to FBT, he says, he no longer faces this challenge.
Moon got his start in 1999 working in studios in Chicago and Texas before settling in Portland and starting his own businesses. Since then, he's grown to work with heavy-hitting artists like Liv Warfield and Gino Vanelli, record labels like Universal and on well-known television programs such as the Arsenio Hall show. But he also works with musicians, sound engineers, companies and venues who want high quality, and don't, he says, "have six figures to spend on a sound system." Moon explained why FBT has become his "go to" brand for clients in these scenarios.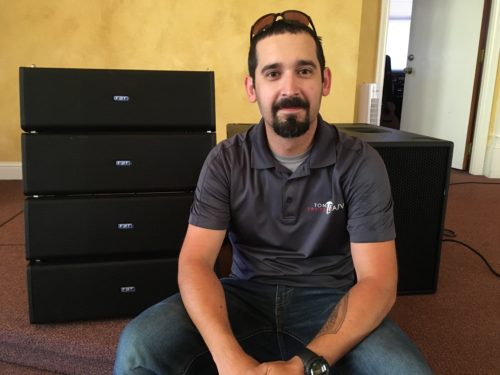 "Every speaker manufacturer 'voices' their speakers in a certain way," said Moon, "and very few really get it right. I prefer brands where what you put into them is what you get out of them. FBT sounds natural and doesn't require a lot of tweaking. They use B&C drivers and, maybe because they're an Italian company, they're as dedicated to design and manufacturing quality as they are to their sound. They're also the only one of the brands in the lower to mid price range that have a winning combination of strong voicing, construction and customer service. Not every one of my clients can afford a top-of-the-line sound system, but they still deserve state-of-the-art sound. FBT lets me provide that to them, in a price range that they can manage."
Moon has installed several Mitus 206LA's in a few local churches, purchased a rig for his own personal use, and has plans to use the brand in several of concerts, festivals and live performances he'll be doing this summer.
"One of the best parts about working with FBT as a brand is working with John Krupa and Italian Speaker Imports (I.S.I.), which is the distributor for the brand here in the states," Moon continued. Saying that he prides himself on giving the best to his own clients, he explained why I.S.I.'s customer service is so crucial to his own business.
"If I want to give the best I can to my own clients, it's important for me to be able to get answers, fill orders quickly, and have access to and a relationship with someone representing the equipment I'm suggesting," said Moon. "With John and FBT, not only am I dealing with great equipment, I also have the added benefit of being able to actually talk to him directly – and that's a big deal to me. He takes a personal interest in our business relationship and really bends over backwards to make sure that we have what we need when we need it. Other companies just don't do that. As far as I'm concerned, if you have a brand that sounds fantastic and the company backing it backs you as a customer – well, that's just a winning combination."
Located just outside of Portland, Oregon, Tone Proper Mastering, AV and Acoustics were built from the ground up with a love for all things music. Dedicated to quality, they tout providing "old school ideas" with a "new school approach," and desire to earn business "the old-fashioned way: by doing a great job."
For more information, please contact:
LisaMarie DeSanto 845. 674. 2927 or [email protected]
#   #   #