For immediate release
For more information contact: LisaMarie DeSanto
674. 2927 or

[email protected]

 
Everything Old is New Again
New York State's Oldest Surviving Theater Restored and Retrofitted with FBT
July 6, 2017 (Hudson, NY) – When Hudson Hall at the Hudson Opera House decided to renovate their historic building, they were faced with a challenge common to any historic space: retrofitting it with modern amenities and equipment while maintaining its authenticity. There was one challenge, however, that proved to be unique to the performance hall – its sound system. Thanks to FBT, those challenges have been met and expectations exceeded, resulting in quality sound that supports performances by professional artists of the highest caliber, in styles ranging from contemporary and cultural to classical.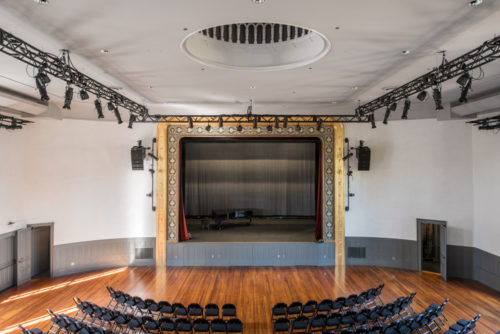 The opera house was built in 1855, abandoned in 1962 and, from 1996 until April, was operating at a fraction of its capacity –utilizing just a center hall art gallery and small performance space on the first floor. Fundraising efforts raised the $8.5 million necessary for renovations, including state historic preservation funds, which supported pulling up and reinforcing the original wood floor with steel before relaying it; supporting the truss, roof and foundation; and cleaning up thirty years' worth of  evidence that pigeons had taken up a tenancy in the rafters. Next steps included fully modernizing the electricity and plumbing, no small feat when considering that maintaining the integrity of the building and its overall structure was a requirement by historical preservation standards.
A significant portion of the renovation funds were, necessarily, dedicated to the building's historic nature, so by the time the organization was ready to consider their sound equipment, they had to be mindful of the budget they had left. Still, they refused to settle for anything less than a state-of-the-art system. They also knew that they'd need that system to be flexible enough to support musical performances on the stage, dance performances in the round on the hall floor, and everything in between. The round shape of the room was also a major concern, since the sound there had always been muddy before.
Simon Nathan, owner of Audio Production Services and a consultant at Italian Speaker Imports with a wealth of professional theater sound installation experience, stepped in to analyze the organization's needs. He recommended FBT. Lighter than most, the boxes could be easily reconfigured on a performance-to-performance basis, and positioned to resolve the many issues raised by the room's curved corners and ceiling. Boasting a price far lower than speakers in a higher price bracket, Nathan assured the staff at Hudson Opera House that not only would the speakers be an affordable solution, the sound quality would rival that of other brands. The decision proved to be ideal.
"With Simon's guidance, we started by flying two line arrays – three Mitus 206la's flown on each side of the proscenium." said Sage Marie Carter, General Manager of Hudson Opera House. "They have a wide cone that covers most of the hall. As for the rest of the system, though, we purposefully kept it very reconfigurable to accommodate the wide variety of performances we present. In total, we have two 118FSA subs, two Stage Maxx 12MA's and eight Ventis 112a's that can also serve as wedges when we need more monitors. Sometimes we hang them from the truss or on side pipes when we're doing performances in the round or on the floor. At others, we use them as center fills when our seating is close to the stage and some audience members aren't in the path of the line array. We don't always have a crew to help alter the set up from show to show, but the best part is, the speakers are so light and flexible that I can easily set everything up  myself."
Smaller and lighter doesn't mean the speakers are any less powerful, though.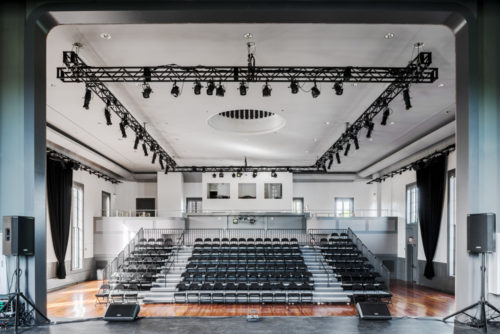 Carter added, "Because the room is such a challenge, architecturally, we were really concerned that we'd never be able to tame it. As soon as we turned the system on, though, I was immediately impressed by its reach and how subtle and true the sound is. This new system allows us to project the sound to every seat in the house, and regardless of where you're sitting it's clean, crisp and clear. You can hear and appreciate every nuance – all of the details of a performance; it's a pleasant concert experience now. We've only been open a short time, but the system has really exceeded our expectations. I have no doubt that it will continue to do everything we ask it to going forward."
Hudson Hall's mission is to inspire and promote the arts, and to play a pivotal role in the cultural and economic advancement of the Hudson Valley region. Ongoing programs include concerts, readings, lectures, exhibitions, theater and dance presentations, after-school programs, workshops, classes, and large-scale community arts events. For more information about the organization, visit: http://hudsonhall.org.
For more information, please contact:
LisaMarie DeSanto 845. 674. 2927 or [email protected]
#   #   #